Need a Link? or Want to Place an Ad?
If you would like to be added as a manufacturer in one of our sections, please contact us. We can feature your company in the area of the site is applicable to your product line. For example: If you build leaf loaders, we can place your ad there. We are very flexible in how we approach advertising. Links can also help you with SEO (or Search Engine Optimization).
If you are interested in advertising on this website, please contact Platapult.
Chad - 330.575.7009 or chad@platapult.com
Chain Saws
Chain saws come in many sizes grades of quality. Smaller saws are easy to manage for part time users. Limbing saws are the smallest type used for climbing trees. Limbing saws are used by arborists to trim with. They are lightweight and can be used with one hand. 16 to 20 inch saws are the smaller mid size saws that are useful for most occasional use like cutting up fallen trees or firewood production. Companies like Stihl and Husqvarna make several grades of their chain saws. The most durable and powerful saws tend to be the most expensive as you would expect.
---
Stihl Chan Saws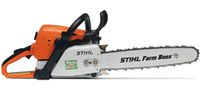 One of the top 2 chain saw sellers in the US is Stihl. While they make several types of 2 cycle tools, they are most known for their chain saws. They can be found on farms and with professional tree services. There are basically 3 grades of Stihl chain saws: Occasional (Homeowner) use, Mid-Range Use saws and Professional Use. The Occasional use saw is still better than most manufacturer's top models. Pro models are the most expensive when comparing similar sizes. Pro saws have several benefits like an isolated handle that cuts down on operator fatigue. If you run a saw all day, the Pro models are for you! Pro models are also available in larger bar and engine sizes for big jobs. The biggest Stihl can take a 59 inch cutting bar! Stihl mid-range chain saws are dependable and tough customers for regular use. Many landscapers buy the Mid-Range saws for those reasons alone. The MS290 Farm Boss is one of the best selling chain saws to date.
---
Husqvarna Chain Saws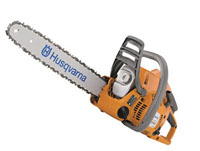 Another leading chain saw manufacturer is Husqvarna. They compete well with Stihl and offer a range of saws for the homeowner to the professional. Professional saws have the XP designation. Husqvarna has a pro saw that can take a 42 inch bar. Husqvarna limbing saws are poplular with arborists and tree trimmers for their light weight and reliability. The Husqvarna Rancher is one of their more popular saws for its cutting ability and all around durability.
---
So - Which is better? Stihl or Husqvarna??
Put a sharp blade on either brand chain saw and you'll be happy with the saw. You simply can't expect the world out of their smaller engine saws. Buy the right size and either brand is a winner.
---